How Often to Replace a Car Battery

Most expert service techs agree that you should replace your car battery every four to five years. However, there are numerous factors that can affect a battery's life. Explore everything you need to know about car batteries with the service experts at Chevrolet Buick GMC Of Fairbanks, and don't hesitate to contact us with questions along the way!
How to Know If Your Car Battery Needs to Be Replaced
How do you know if your car battery needs replacing? Watch out for these signs:
Unusual power fluctuations
Takes longer to start the engine when you turn the key/push the button
More frequent need for engine revving or jump starts
Dimming headlights
What Causes Car Battery Deterioration?
There are multiple factors that can cause a battery to deteriorate:
Heat: The liquids inside a car battery evaporate faster in hot weather, so if you live in a climate that is hot most of the year, your car battery's life will be shorter.
Vibrations: Do you drive on rugged terrain in North Pole frequently? The vibrations caused by rough roads can cause a battery's hold-down clamps to loosen, and its internal parts may break down faster.
Needing a Jump: If you accidentally leave your lights on overnight in Fort Wainwright or you allow your engine to idle too long, it may require a jump start, which can have a significant impact on battery life.
Time: The eventual death of your car battery is inevitable, as a battery can only be put through so many charge cycles. That said, with proper maintenance, you can prevent a battery from dying prematurely.
Wondering how long your car's battery should last? Check your owner's manual or maintenance schedule for a specific time interval.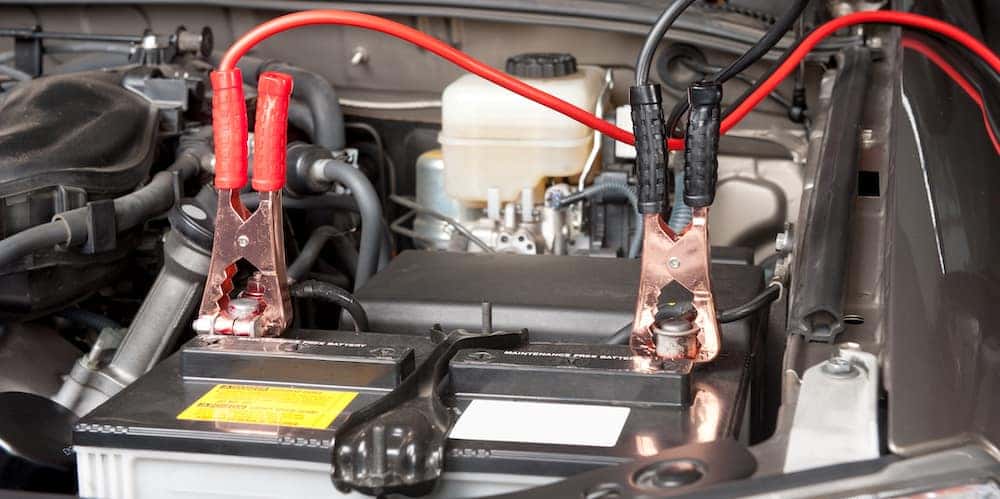 How to Test a Car Battery
When you bring your vehicle in for regular maintenance like oil changes and tire rotations, you should have your battery tested during at least two appointments per year. If you need to have your battery tested at a time when you don't need other maintenance, many retailers offer free tests. Or, you can test your battery at home in Eielson Airforce Base through a variety of methods:
The Headlight Test: 
Turn on your engine, put the car in park, and turn your headlights on.
Rev the engine, noting if the brightness of your headlights change.
If your headlights get brighter, this is a sign that the current is too weak to keep the lights at normal brightness.
If the headlights get brighter, that means the current is not strong enough to keep the lights at normal brightness while the car is idling.
At this point, the best option is to bring your car into a service center for further inspection.
Using a Digital Multimeter:
Set your voltmeter to 20 DC volts.
Under your hood, touch the negative terminal (black) with the negative meter probe (also black.)
Touch the positive terminal (red) with the positive meter probe (also red.)
Have a friend turn on your headlights, then check the voltmeter reading.
At 80 degrees Fahrenheit, 12.5 volts or higher signals that your battery has a full charge. At 12.3 volts, a battery is about 75 percent charged. If your battery reads out at 11.8 volts or lower, your battery is less than 25 percent charged.
How Much Is a Replacement Car Battery?
Generally speaking, the cost of a car battery ranges from $75 to $120. If you have a premium battery, though, it may cost up to $200. Driving a hybrid like the Chevy Volt? Because hybrid batteries have a bigger job than traditional car batteries, they cost much more, coming in at $1,000 to $6,000. This is a special case, however, and is a rare occurence for hybrid owners.
Keep Up with Your Car Battery at Chevrolet Buick GMC Of Fairbanks
Need to replace your battery or have it tested? Consult the parts department at Chevrolet Buick GMC Of Fairbanks, then schedule an appointment online. Before you come in for your service, be sure to take a look at our parts coupons and service specials.
More From Chevrolet Buick GMC Of Fairbanks
The GMC Canyon is a midsize pickup truck that has the necessary power and premium features to get you around North Pole and beyond. Trim levels for the 2022 GMC Canyon start at $26,800 and come in 3 different trims that Fort Wainwright drivers can select from when visiting Chevrolet Buick GMC Of Fairbanks. Find out more about GMC Canyon…

Looking for a family-friendly sedan in North Pole that meets your driving needs and then some? When it comes to car shopping, matching for personality fit is equally as important as hard, cold specs. It's with that in mind that we offer the following exposé of 2022 Chevy Malibu colors. Whether you're looking for information on…

This first-ever all-electric 2024 Chevrolet Silverado EV will be the first of its kind and sure to impress! The electric truck power, electric Silverado range, and electric Silverado horsepower are all unique aspects of the 2024 Chevrolet Silverado EV that make it one of the most anticipated pickup trucks in the market. At Chevrolet Buick GMC Of Fairbanks, we're…