What is Homelink?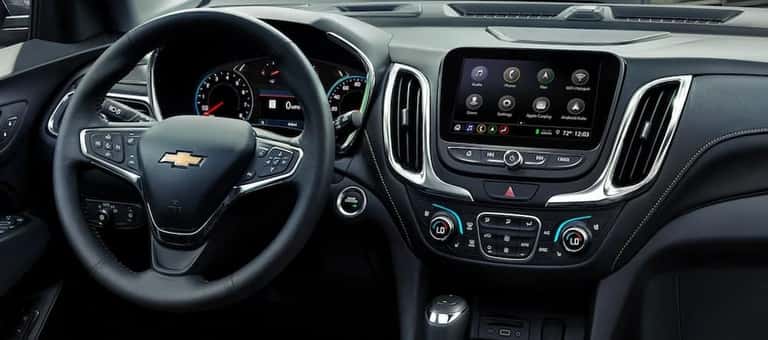 Chevy Homelink is a wireless control system, conveniently built right into your Chevrolet Silverado, Chevrolet Trax, or other Chevy vehicle. Homelink allows North Pole drivers to:
Open and close your garage door
Activate or deactivate your home's security system
Activate or deactivate your home's lights and electronics
As you can see, Homelink is the next generation in car-to-lifestyle connectivity. Learn how to program this system. Then, explore the benefits of Homelink. If you have any questions, do not hesitate to reach out to Chevrolet GMC Of Fairbanks.
How Do I Program Homelink?
Now that you have a partial overview of Homelink, you may want to know how you program the thing. Programming Homelink is quite easy. Simply follow these steps to connect your garage door opener to your car:
The Homelink unit offers three buttons. It is located above your car's center console. Press and hold down the first and third buttons for a few seconds. Then, the interior lights should flash. This process, in total, should take about 20 seconds. (Keep in mind that holding the first and third buttons is the master reset. You will not need to do this step when connecting other devices to Homelink.)
Once the ceiling lights begin to flash, hold the button you would like to program while holding the open/close button on your garage door opener. The lights should flash slowly and then rapidly. This succession should indicate that the programming is complete.
Head on over to your garage. Press the "learn" button on your garage door opener.
Return to your Chevy. Press the button on your car for a minimum of two seconds. You might see the lights on your garage door opener flash. This indicates that the two devices are connecting.
Voila! There you have it. You've connected your garage door opener to your car.
If you want to reprogram one of your buttons, you can follow the steps above to pair with a new device. Should you need to reset your Homelink system, you simply need to press and hold the two outside buttons for 10 seconds until the indicator light changes from solid to flashing. Once this is done, your Homelink system is ready to be updated to command three new devices.
How to Use Chevy Homelink
Now that your Chevy Homelink is programmed and ready to go, you may be wondering how to use your Chevy Homelink! With the ability to easily open up to three separate garage doors, and control a myriad of home devices, the Homelink system in your Chevy can make life safer and more convenient every day. While the garage door opener functions of your Chevy Homelink are impressive, you can take control of many other devices in your home with this system.
Using radio frequency (RF) or cloud-based wireless control, the Homelink is able to command your home's thermostat, lights, smart outlets, and any other compatible devices. With the buttons located in either the visor, overhead console, or on the rearview mirror, unprecedented control is at your fingertips.
Everyday Convenience With Homelink Connect
With the Homelink Connect App, the range of control is extended beyond measure. With integrated vehicle buttons, you can turn on your lights or even set off an entire home automation "scene" to safely engage your home while on the go. The Homelink system sets the standard for vehicle-to-home connection and is great for everyday use. If you want to change the temperature of your home for a more comfortable arrival, Homelink Connect can help.
Another great use for the Homelink system is home security. If you won't be getting home until late, you can turn on your lights to deter intruders and for peace of mind upon arrival. The system can even indicate whether you have left your garage door open or closed and allows you to shut the gate if you desire. The Chevy Homelink system prevents stress or worry on trips away from home!
Chevrolet Homelink Benefits
North Pole and Anchorage drivers who have a Homelink-equipped Chevrolet vehicle will enjoy the following benefits:
Battery-free: Your Chevy's electrical system powers Homelink. You'll never have to worry about changing batteries, then.
Compatibility: Homelink works with nearly every garage door opener or gate system out there. It also works with a range of radio-frequency controlled devices.
Control for Up to 3 Devices: Enjoy total control with connectivity for up to three devices.
Easy to Use: As noted above, connecting your vehicle to your home is just a matter of pressing and holding a few buttons.
Safety and Security: This system will allow you to know whether you left your garage door open. Homelink applications will also give you remote control over in-home electronics and applications.
Explore More Chevrolet Technologies at Chevrolet GMC Of Fairbanks!
If you find that you need additional help programming your Homelink, or Chevy MyLink system, the certified service techs at Chevrolet GMC Of Fairbanks can walk you through it. If you'd like more information, or have any questions like how to start your car in the winter, please don't hesitate to contact us online.
---
More from Chevrolet GMC Of Fairbanks