How to Check Coolant Levels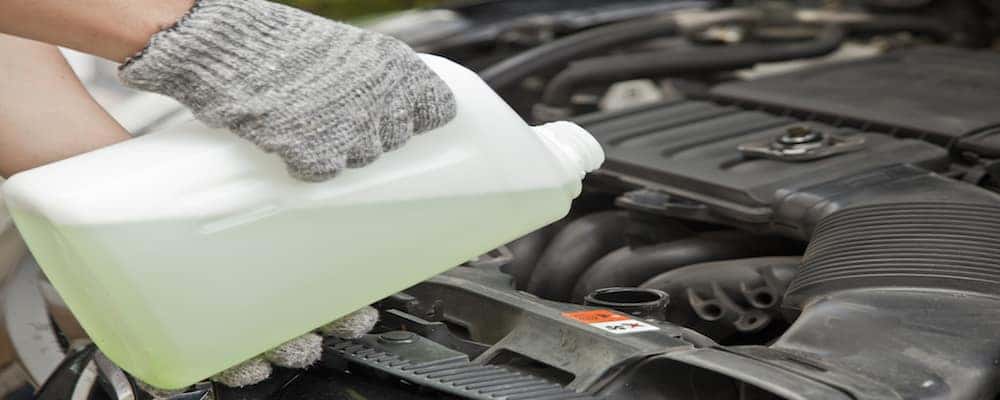 First off, you may be wondering, "What is coolant?" Coolant is a fluid that transfers heat and regulates the temperature of the engine block and parts – also referred to as antifreeze. Whether you drive a new or used car, engine coolant is crucial. Coolant will keep your engine cool in warmer weather, and it will keep your engine from freezing up in those blustery winter months. Read on to learn more about how to check coolant levels and when to change it!
Coolant Levels: What to Look for
You don't have to open the radiator cap to check the level. Instead, check the markings on the side of the reservoir. If the liquid reaches the "full" marking line, you're good to go. If it doesn't, remove the radiator cap and add the coolant or a 50/50 mix of coolant/water. Read the bottle to see if it's premixed. It's also a good idea to also inspect the hoses connected to the radiator for any leaks or damage.
Note: If you're adding more liquid to the cooling system, be sure the engine has cooled. Also, don't attempt to open the radiator cap while the engine is hot.
When to See a Service Technician
Coolant is thinner than oil but thicker than water. If you notice a sludgy appearance to the liquid, schedule service ASAP. There's a good chance your car has an internal gasket leak. Driving is possible, but a leaking gasket will drain the coolant quickly. This means the engine is at risk of overheating and being severely damaged.
When to Change Coolant
Coolant levels deplete over time, so it's a good idea to check up on the cooling system every three to six months. Usually, the liquid is blue, green, yellow, or red. If it's brownish or even colorless, flush the system and replace the fluid.
Get More Service Tips from Chevrolet Buick GMC Of Fairbanks in Fairbanks!
If you have questions about checking your car's coolant system, or if you're looking for additional advice on removing ice on your driveway or when to replace a car battery, don't hesitate to contact us at Chevrolet Buick GMC Of Fairbanks. You're also welcome to visit us for in-person assistance. We're located near North Pole and Fort Wainwright! Be sure to check out our current service specials!
More from Chevrolet Buick GMC Of Fairbanks
The GMC Canyon is a midsize pickup truck that has the necessary power and premium features to get you around North Pole and beyond. Trim levels for the 2022 GMC Canyon start at $26,800 and come in 3 different trims that Fort Wainwright drivers can select from when visiting Chevrolet Buick GMC Of Fairbanks. Find out more about GMC Canyon…

Looking for a family-friendly sedan in North Pole that meets your driving needs and then some? When it comes to car shopping, matching for personality fit is equally as important as hard, cold specs. It's with that in mind that we offer the following exposé of 2022 Chevy Malibu colors. Whether you're looking for information on…

This first-ever all-electric 2024 Chevrolet Silverado EV will be the first of its kind and sure to impress! The electric truck power, electric Silverado range, and electric Silverado horsepower are all unique aspects of the 2024 Chevrolet Silverado EV that make it one of the most anticipated pickup trucks in the market. At Chevrolet Buick GMC Of Fairbanks, we're…